Welcome to our Members' page.  Keep an eye out for periodical updates: helpful information about past and present members, surveys and information.
You can view our governance, policies, annual and financial reports here. 
We look forward to sharing experience and knowledge and inspiring you to join our many activities.
Further information concerning NEAF can be downloaded below:
Annual Reports:
Financial Reports
The NSW Auditor General performs the Audit of Financial statements of the University as a whole. The Auditor-General has not specifically performed procedures that ensured that the financial statement presented in our Annual Reports was true and fair or in accordance with the University's accounting policies.  Further, at the date the certification was signed by the Finance Director, the Audit-General had not completed the audit of the University's financial statements.
NEAF greatly values the support of all its members, and we pay our respects to those who are no longer with us.
Dr Michele Cotton AM NEAF Councillor from 1 April 2002 to 1 April 2011.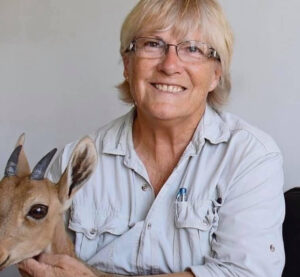 Michele wanted to be an archaeologist when she was a child – but then became a vet!  She had lived and worked in the Middle East (Riyadh) for many years (as a result of her husband Peter's work) and while bringing up her family (Peter, Sophia and Andrei), she devoted time to studying local animals and providing veterinary care. Michele's interest in native wildlife in the Middle East grew, and with it her interest in the archaeology of ancient human cultures and their relationship with wild and domesticated animals.  This interest in the human animal bond more recently took her to Africa, and Jordan, where she contributed to efforts to save endangered wildlife and habitats.  She joined the NEAF Council in 2002 and also served as a Director of the Post Graduate Foundation in Veterinary Science at the University of Sydney, and was a strong advocate for community outreach.  She was a volunteer at Pella in Jordan. 
Michele passed away on the 13th January 2020 a brief illness, and to the last continued to come to NEAF Council meetings, helped by her son Peter Judzewitsch. We were delighted that Peter accepted a tribute and presentation for Michele on her behalf at our 2021 reception to honour retiring Councillors.
(November 28, 1957 – May 27, 2019)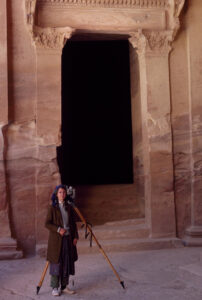 In a tribute to Judith McKenzie written by Alan Walmsley, a fellow archaeologist who also prepared his doctorate at Sydney University in the mid-1980s, he praised Judith as 'one of Australia's most eminent alumni in the humanities' (Levant, 2000). Yet Judith never held a distinguished 'named' chair at a university, never presented a documentary series on television, and died at the relatively young age of 61 when she was in the full flowering of her energy and productivity.
Judith produced a string of books ground-breaking for their assiduous scholarship, but a couple of generations of scholars and students nurtured by her commitment to setting them on the right path.
Her methods of inquiry set new standards which would mark all her subsequent output—don't assume: record, measure, compare, question, trust only what you could see. Her Sydney University Ph D thesis had explored the inheritance of Nabataean architecture in the context of what remained of the late Hellenistic architecture of Alexandria. Most scholars would have baulked at the fact that Alexandria has largely sunk under twelve metres of mud and tectonic displacement beneath a very crowded modern city. She chased the evidence wherever it could still be found—in underground tombs surviving around Alexandria's outskirts, in Amman, on a high plateau above the Wadi Mujib (Jordan), the museums of Yale, Europe, Jerusalem.
When she wasn't travelling or burying herself in the repositories of museums she drew on another source of inspiration: new generations of students, groups of whom might find themselves traipsing around the Levant under her protective guidance. She had a particular talent for reaching back to her Australian roots and encouraging Australian students venturing abroad.
Judith found it impossible to huddle over the sources she had unearthed, particularly if they gave clues as to how cultures were in contact with each other in ways we might never expect in a compartmentalised world.
Following the outbreak of conflict in Syria in 2011, and the huge fallout from the conflict in the world's greatest 'outdoor museum' which Syria undoubtedly is, Judith's response was pragmatic: if scholars, the public or students could not go there, document it. Not in make-believe 'reconstruction' projects which could be inaugurated by dignitaries using Syria to get their names in the media but in a massive photo archive of everything that could be scooped up from the years before the crisis.
Judith couldn't tolerate humbug but that did not mean that she left no monuments to her own achievements. It was in her books, in Manar al-Athar and among her students that she will be remembered. Archaeological publications these days often just drift with the flow of fashionable themes and accordingly have a half-life of not much more than a human generation. Not Judith's Sydney PhD thesis. It reached its third edition as a book in 1995 and one reviewer hailed it as a work 'destined to be used 100 years from now'. (Kokkinos JRS 1992: 280)
It is with a real mixture of sadness and love that NEAF says farewell to one of our greatest supporters and friends in Lady (Win) Stephen.
Born (in Adelaide) into a strongly medical family as the daughter of James Bonnin, a general practitioner, and sibling of five brothers (four of whom became doctors) and a sister (a Senior Sister in the army attaining the rank of Captain) it is perhaps surprising that her first job was that of an air hostess flying mainly from Adelaide to Perth in small, low-flying (and bumpy) aircraft.  Although Win relished the idea of travel, she suffered badly from air sickness resulting in her changing careers and graduating from Adelaide University in 1946 in Social Work.
Having moved to Sydney shortly after graduation, Win met and later married Alastair Stephen, a solicitor and on the Board  (later to be the Chairman) of Royal Prince Alfred Hospital. Shortly after meeting Alastair she took the opportunity of informing him that RPAH was one of the largest hospitals in the Southern Hemisphere without a qualified Social Worker on its staff – an omission that was rectified soon after!
While her very happy marriage to Alastair marked the end of Win's brief social work career, she was more than compensated by the pleasure she had in raising four children: Sophie (the daughter of Alastair and Diana, his deceased first wife), Alexandra, Mary and Christopher. After the children reached school age, Win was able to serve on the Board of the Rachel Forster Hospital for Women for many years and remained a great advocate for the education and independence of women. 
With both Win and Alastair being keen travellers, it is not surprising that one of the highlights of their trips was a month spent in Greece, packed into a minibus along with a guide and two of their children, visiting many of the important sites of the Classical period.
After Alastair's death in 1982 Win continued to travel, including a visit to the Australian excavations at Torone in northern Greece directed by Professor Alexander Cambitoglou. It was there that I had the great fortune to meet her for the first time, perhaps playing some role in her subsequent involvement with NEAF. 
Win remained fascinated by the ancient world, and went on a series of trips to the Levant with NEAF.  Along with her daughter Mary, she participated in more than thirty (!) short courses (mainly through NEAF) in Archaeology and History.  However, in typical fashion, she wanted to give something back to those institutions that had given her so much pleasure. Thus, aged in her late 70s, she 'got a new job' two days a week, volunteering in the Nicholson Museum.  She began by stuffing envelopes, and moved on to reconstructing shattered pots, learning how to support the glued pieces in sand.  She loved these days, and she loved the archaeologists, she loved NEAF and she loved the Nicholson Museum.  For her, the archaeologists were dear friends and she felt privileged to be able to work among them. Even more privileged were all of us who knew her—either as a friend, travelling companion, or volunteer in the NEAF office or basement of the Nicholson Museum—for with her enthusiasm (age being no barrier), gentility, and selflessness Win remains a real inspiration to so many.
Win remained fit and healthy into her 100th year (in 2016) and beyond, but with failing eyesight.  She lived independently (with some help) and died in July 2019 after a fall.