Dr Joseph W. Lehner, Assistant Director
Website: https://nauticalarch.org/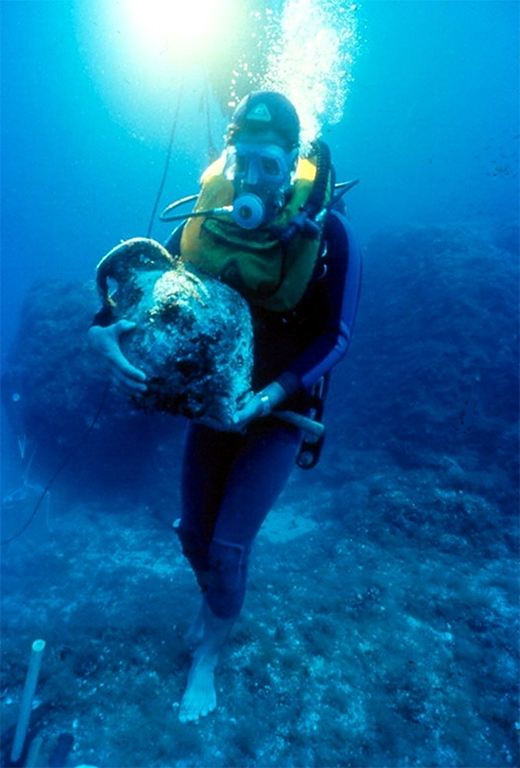 Dating to ca. 1200 BC, the Cape Gelidonya shipwreck is among the oldest in the Mediterranean. The 1960 excavations, led by the late George Bass (1932-2021), fundamentally changed how we understand the Late Bronze Age maritime cultures of the region. Furthermore, as the first shipwreck excavated according to archaeological principles, the project was fundamental to establishing underwater archaeology as a discipline. Subsequent surveys in the 1980s and '90s and another excavation in 2010 conducted under the auspices of the Institute of Nautical Archaeology brought to light many more artefacts from the cargo that are broadening our understanding of the wreck.
Formally based at the Bodrum Research Center of the Institute of Nautical Archaeology, the current ongoing project is focused on the final publication of the wreck in its entirety. This work includes a wide range of new international partnerships and experts, whose collective work continues to discover fascinating new details of maritime lifeways and culture at the end of the Bronze Age.
Select publications:
Bass, G. F., Throckmorton, P., Taylor, J. d. P., Hennessy, J. B., Shulman, A. R., & Buchholz, H.-G. (1967). Cape Gelidonya: A Bronze Age Shipwreck. Transactions of the American Philosophical Society, 57(8), 1-177.
Hirschfeld, N., & Bass, G. F. (2013). Return to Cape Gelidonya. Pasiphae, 7, 99-104.
Lehner, J. W., Kuruçayırlı, E., Martin, S. A., Langis-Barsetti, D., Bowland, L., & Hirschfeld, N. (2021). Oxhide ingots and the Cape Gelidonya shipwreck: new research on an old problem. TINA Maritime Archaeology Periodical, 13, 54-65.
Lehner, J. W., Kuruçayırlı, E., & Hirschfeld, N. (2020). Oxhides, Buns, Bits, and Pieces: Analyzing the Ingot Cargo of the Cape Gelidonya Shipwreck. In A. Gilboa & A. Yasur-Landau (Eds.), Nomads of the Mediterranean: Trade and Contact in the Bronze and Iron Ages (pp. 161-176). Brill.