Tour Leader: Ben Churcher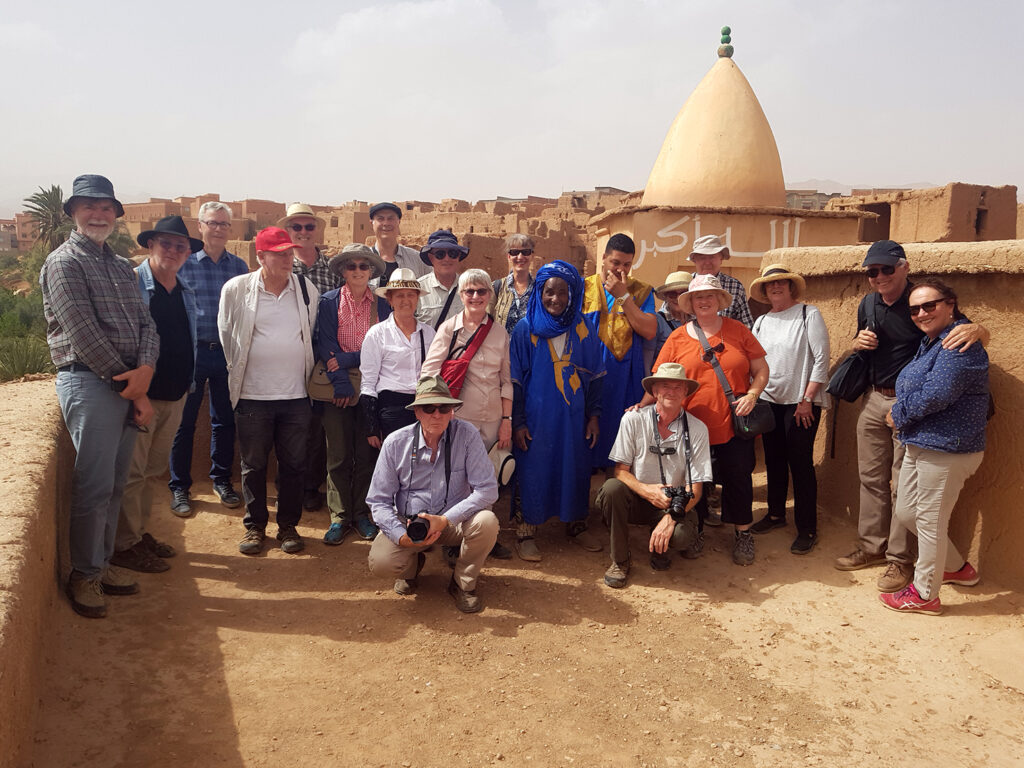 In March/April 2018 20 NEAF members travelled to Morocco to find the country bursting with the vibrant colours of one of the best spring seasons the country has seen in many years.
The three week tour has time to take in the very best of what Morocco has to offer. It starts in Casablanca, and rather than immediately departing like many tours do, we had a day to find our Moroccan feet, visit the stupendous Mosque of Hassan II and walk along the corniche with the Atlantic rollers thundering in. Travelling north we visited Rabat, a lovely town on the Bou Regreg and once home to the famous Sallee Rovers – a dreaded band of Barbary corsairs in the 17th century. From Rabat we turned inland to visit Meknes – famously constructed by the ruthless Moulay Ismail – Roman Volubilis bedecked in its finest spring bloom, and finally the hustle and bustle of Fes: one of the great oriental cities.
From Fes the tour crossed the Middle and High Atlas Mountains and entered a different world of deserts, verdant palm plantations and kasbahs. The great river systems that bring life to Saharan Morocco – the Ziz, Todra and Draa – form visually stunning panoramas with crumbling mudbrick villages and lush green gardens framed by barren, red hills. From Erfoud to Ouarzazate we saw the desert, camels, fossils (and more fossils), most of the thousand kasbahs that are meant to be in this area, and heard the Muslim call to prayer sung for us in an old mosque overlooking the gardens at Tinghir.
Crossing the High Atlas again but this time heading north, we returned to the more agricultural Morocco and one of its great cities: Marrakesh. After stocking up in the endless markets at Marrakesh, we headed to Essaouira for some well earned R&R at the old Phoenician port of Mogador. Then, in what seemed like a twinkle of an eye, we were back in Casablanca and getting ready to return home. But while the tour seems to go fast, the memories of this diverse and beautiful country will stay with us for much longer.